www.logicaprevidenziale.it
In questa pagina eventi, convegni e incontri sulla previdenza e i temi ad essa correlati.
---
Il Centro studi Logica Previdenziale e la Facoltà di Economia, al fine di avvicinare gli studenti al mondo professionale nell'ottica di favorirne l'inserimento nel mondo del lavoro, organizzano il ciclo di seminari:
Giovedì 3 aprile 2014, ore 14.00, Aula III
La professione dell'Attuario
Giampaolo Crenca - Presidente del Consiglio Nazionale degli Attuari
Mercoledì 23 aprile 2014, ore 12.00, Aula di Matematica
La Cassa Nazionale di Previdenza e Assistenza dei Dottori Commercialisti
Renzo Guffanti - Presidente CNPADC
Lunedì 26 maggio 2014, ore 16.00, Aula III
La pensione complementare in Italia
Mauro Marè - Presidente MEFOP
Luigi Ballanti - Direttore generale MEFOP
Giovedì 29 maggio 2014, ore 09.00, Aula di Matematica
L'Ente di Previdenza dei Periti Industriali e dei Periti Industriali Laureati
Florio Bendinelli - Presidente EPPI
Giovedì 29 maggio 2014, ore 14.00, Aula III
Il sistema pensionistico italiano
Giuliano Cazzola - Economista e politico italiano, già componente della Commissione parlamentare di controllo sull'attività degli enti gestori di forme obbligatorie di previdenza e assistenza sociale
I seminari sono aperti alla partecipazione di tutti gli interessati e si terranno presso la Facoltà di Economia dell'Università degli studi di Roma "La Sapienza".
---
International Conference on Pension System Sustainability (ICPSS 2013)
Faculty of Economics, Sapienza University of Rome, Italy
Organised by Professor Massimo Angrisani's Research Group
The Scientific meeting ICPSS 2013 is the first edition of the International Conference on Pension Systems Sustainability.
It will be held in Rome from 21st February to 22nd February 2013.
This event is being organized by Professor Massimo Angrisani's research group and will be held at The Sapienza University of Rome, Italy.
The theme of the Conference is The Pension Systems Sustainability.
The Conference will have a technical and operational connotation. The positive aspects and critical issues of pension systems will be discussed and analyzed in the light of the reforms adopted and to be implemented to improve the sustainability.
Its format provides the presence of invited speakers who will report about national pension systems, with the aim to realize a comparison on the relative sustainability models.
Each invited presentation will be followed by an open discussion with the audience.
At the end of the Conference, ideas and perspectives on the pension system sustainability theme will be discussed in a Round-table among the invited speakers.
The Conference is addressed at all those who deal with sustainability issues in pension systems, from a theoretical and practical profile.
English and Italian are the official languages of the Conference, simultaneous translation between the two languages is provided.
The participation in the Conference is subject to registration and payment of a fee.
---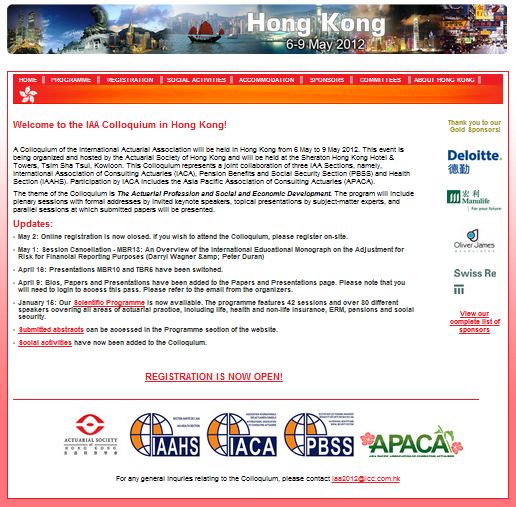 6-9 maggio 2012
International Actuarial Association Colloquium
Hong Kong
A Colloquium of the International Actuarial Association will be held in Hong Kong from 6 May to 9 May 2012. This event is being organized and hosted by the Actuarial Society of Hong Kong and will be held at the Sheraton Hong Kong Hotel & Towers, Tsim Sha Tsui, Kowloon. This Colloquium represents a joint collaboration of three IAA Sections, namely, International Association of Consulting Actuaries (IACA), Pension Benefits and Social Security Section (PBSS) and Health Section (IAAHS). Participation by IACA includes the Asia Pacific Association of Consulting Actuaries (APACA). The theme of the Colloquium is The Actuarial Profession and Social and Economic Development. The program will include plenary sessions with formal addresses by invited keynote speakers, topical presentations by subject-matter experts, and parallel sessions at which submitted papers will be presented.
---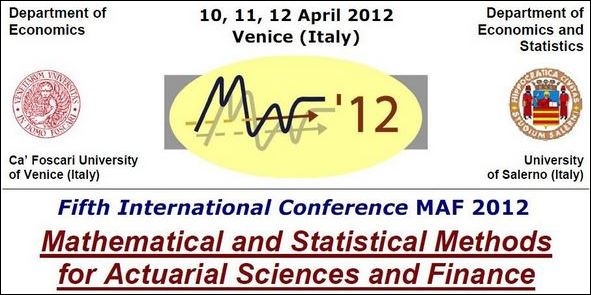 10-12 aprile 2012
Mathematical and Statistical Methods for Actuarial Sciences and Finance
Venezia
The Conference is born of the belief following which interaction between mathematicians and statisticians in working in actuarial sciences, in insurance, and in finance can improve research on these topics, both in a theoretical perspective and in an operative one.
The "Fifth International Conference MAF 2012 – Mathematical and Statistical Methods for Insurance and Finance" had precisely this purpose. Its main aim is to provide new theoretical and methodological results, and significant applications by exploiting the capabilities of the inter disciplinary mathematical-and-statistical approach.
The Conference covers a wide variety of subjects in actuarial science, insurance and financial fields, all treated in light of the cooperation between the two quantitative approaches.
The conference is open to both academicians and professionals, and it is designed also to promote the cooperation between academicians and professionals.
A selection of accepted papers will be published in a volume edited by an international publisher, and in special issues of the international journals "Mathematical Methods in Economics and Finance" and "The European Journal of Finance".

---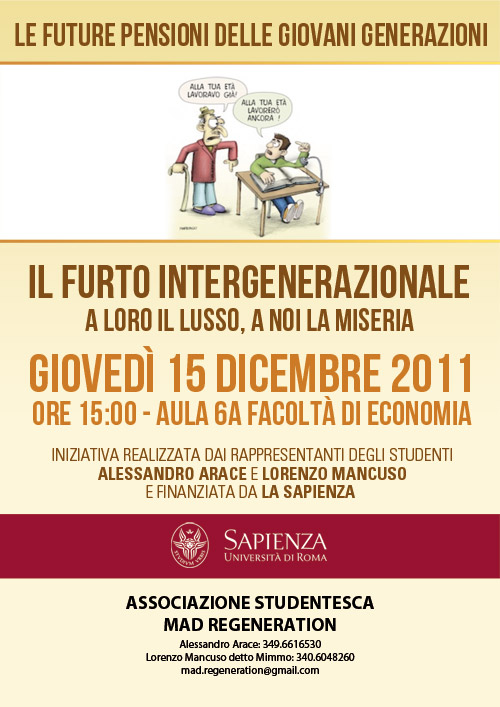 Il furto intergenerazionale. A loro il lusso, a noi la miseria.
Facoltà di Economia "Sapienza"
Organizzato dall'Associazione studentesca Mad Regeneration
---
23-26 novembre 2011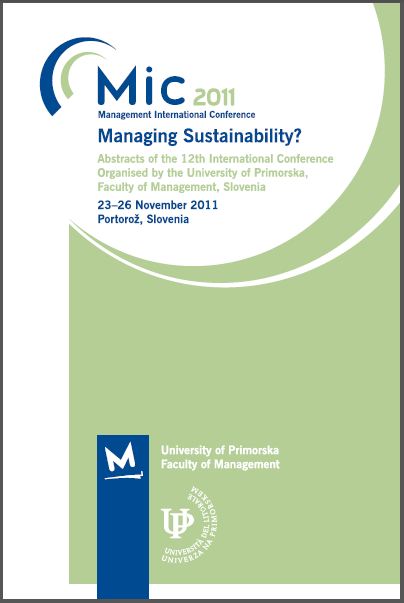 12th Management International Conference (MIC 2011)
Organised by the
Faculty of Management Koper, University of Primorska, Slovenia
Management International Conference (MIC) is a traditional conference for scholars of management studies, welcoming participants from around the world, with broad and diverse research interests. Its aim is to present and discuss research that contributes to the sharing of new theoretical, methodological and empirical knowledge, and to better understanding of management practices.
The special focus of MIC 2011 is on the controversial issue of whether, and how, sustainability   can really be "managed". Sustainability has become one of the highest priorities on social development and corporate responsibility agendas, yet the concept remains highly contested. On the one hand, it has evolved from being a "limit to growth" of economies and businesses into a comprehensive alternative development paradigm and practice. On the other hand, it has also devolved into being a "commodity" that sells well on the market and that can be managed in ways similar to other business or social resources. Where on this broad range of possible meanings do we find our current personal, corporate and policy practices? Why is sustainability so fashionable? Is future sustainable and is there a future for sustainability?